This week was a gap of sorts in my adventure. I've been in London since Monday, but hardly done any touring. That hasn't stopped me from keeping busy, however!
| | |
| --- | --- |
| Ben and I finished up in Paris in style: a mini Lindy in the Park! We were wandering through a park and stumbled across a jazz band in a large gazebo. An older couple would go out and Lindy Hop every few songs, and were a joy to watch! They spoke no English, but I was able to tell them their Lindy was "tres bon", and asked "Voulez Vous Lindy Hop?" Afterwards, several locals noticed me in the park and gushed at me in French. I'm not sure what they said, but it seemed apparent everyone's day had been brightened. | Lindy In The Park |
After days of aggressively touring Paris, the last couple days were more relaxed. I revisited the Orsay Gallery, and Ben and I climbed the Eiffel Tower (this time to the top) at dusk, when it is lit up with sparkling lights. Ben's pictures turned out great, so I'm crossing my fingers for my own.
| | |
| --- | --- |
| We took the Chunnel train on Monday and made our way to the University of Westminster (U-Dub, naturally) to stay with Laura, yet another displaced Seattle Swinger. Her dorm room truly was designed for only one person, but we have squeezed in comfortably, and it has been a refreshing place to stay. | No more space! |
Monday the three of us went dancing, bringing along one of Laura's dorm-mates in tow. By the end of the evening she had become a pro! Chalk another one up for the recruitment committee! London has a strong dance scene, and this night was particularily good, complete with a strong live band. It is the one run by Simon Selman, and as it happened, he was celebrating his birthday. He was having trouble getting people to join into his birthday dance, so I seized the moment and jumped in, much to his surprise! I had to make sure Seattle made an impression, after all! Ben and Laura are still speaking to me, so I must have done OK.
Tuesday was more dancing at a smaller venue. There were still plenty of fun follows to be found, and I enjoyed meeting everyone. Wednesday, we went out again, though I danced very little, having once again found a cold with my name on it. I had found a friend of Laura's who was a energetic follow, so as my energy allowed, I would wander out with her, but otherwise was fairly unsocial.
Between getting home late, nursing my cold and planning the next leg of my trip, my days have been fairly quiet. I ventured into town Tuesday and wandered through SoHo, but that was pretty much it. I'll be back in London in a couple weeks, and plan to tour more heavily then. I have passed my cold on to Ben, so I won't have to worry about that any more!
Last night there was no dance (the horror!), so I grabbed a drink with one of the local follows. She toured me around town a bit, so I have seen Buckingham Palace, SoHo, and a few points in between by night. The city is brightly and colorfully lit at night, and was very nice to see. It is definitely very urban, and reminded me of an American city more than anything else I've seen, but was also quite different. The evening lasted well past the last tube, so I took a black cab back to Laura's. The things have video displays explaining the cab's afety features and then play little features on London! I turned the volume down and concentrated on the view out my window instead.
It is refreshing to speak the native language. Getting train information was painless, for a change, and I'm getting accustomed to beign able to read the ads on the trains. There is a series here that tickles me involving 'irritating eyes'. I gather it's for some type of eye drop. The ads have photos of people in life size eyeball costumes (ala Rainier Beer)doing irritating things like making noise when people are trying to talk, squeegee-ing car windows at intersections, etc. They're probably better seen than described.
Tonight, we have more dancing. Tomorrow, once more on my own, I move on to Edinburgh, and then to Oban, to visit the lands of my MacDougall ancestors.
Cheers!
-Gavin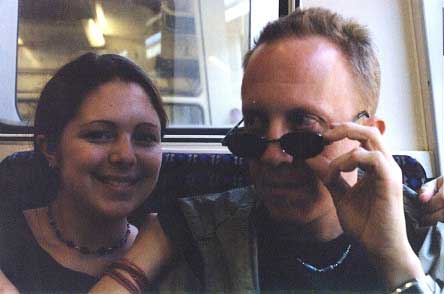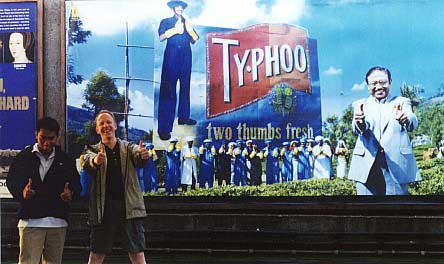 INDEX