March 24, 2000
After assuring countless people I would not be in Amsterdam, here I am. I arrived yesterday, and bought a snappy new outfit with the help of my travelling partners. God, the prices here are low! Stop me before I shop again!
| | |
| --- | --- |
| Amsterdam in the rain | It's raining now, so we are catching up on correspondence. It's nice to have the keyboard layout that I'm used to, even though I'd finally begun to learn the German one. It's also nice to have a decent internet cafe. The one in Frankfurt was cheap, but truly amateur hour. Thanks to my Starbucks experience, I was able to give them technical support on practically every visit (they looked forward to my arrivals, I think). Doing tech support with menus written in German is not much different from doing it over the phone with people who are unable to explain what they see in front of them, actually. I did not help them with their sorry coffee situation. An ex-Starbuckian can only do so much... |
Back in Munich, I went dancing with Sigi and Christine's Tuesday Lindy classes. I ended up being a follow in Lindy 1, and back led some beginners to a greater understanding, which felt good. Afterwards at the dance, a partner and I had glasses of wine bought for us, people were so impressed by the Lindy! I can learn to like this...
| | | |
| --- | --- | --- |
| The Danube in Ulm | From Munich I headed north to Frankfurt, stopping along the way at Ulm, home of the highest cathedral steeple in the world. It's a fabulous gothic structure, and the top view deck is barely a foot deep, the steeple is so narrow at that point. Even without the wind and rain it would have been dizzying! | |
| | | |
| --- | --- | --- |
| | Heildelberg was awesome, complete with a tour of a ruined castle (twice by war, once by lightening). I've definitely found the 'real' Europe, not the Americanized version from Munich. Many folks wrote me about my comments about the culture being startlingly similar to our own, and I now realize I was in one of the more American places. I have now been happily immersed in some cool places that are truly European. Of course, celebrating St. Patrick's Day in an Irish pub in Heidleberg is a twisted way of proving that point, but that is what I did with some friends from my hostel. | |
| | | |
| --- | --- | --- |
| The old and the new in Frankfurt | Frankfurt kept me busy for a few days. What a beautiful, walkable, cosmopolitan city! I could live there, that's for sure. The hostel was very comfortable, which didn't hurt. We were there for the first day of spring, which turned out to be a gloriously warm, sunny day. I spent lunch high above the pedestrian mall basking in the sun while listening to waltzes wafting up from a trio playing on the street. | Waltz, anyone? |
So now here I am in Amsterdam, looking more stylish than someone living out of a backpack normally might, but when in Rome... Once the rain clears we're heading to the Anne Frank house and perhaps a harbor tour (weather permitting). I hope to sample the night life (I'm itching to dance!!!!), but only expect to make the requisite touristy pass through the red light district.
We'll be here through the weekend before heading to Poland for Easter and the Czech Republic.
Cheers,
-Gavin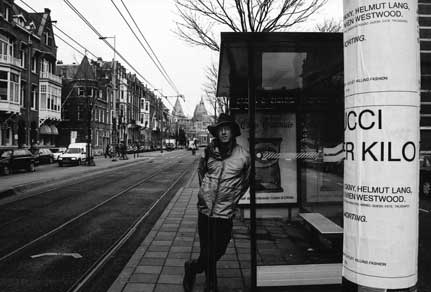 INDEX